Hong Kong, 4 October 2023 : To welcome the winter season, the North Face has gathered elite outdoor athletes from around the world to release its latest 2023 SUMMIT Series. The new collection continues the leading outdoor company's commitment to supporting explorers with advanced technology and cutting-edge gear, unleashing their unlimited potential to "Face the North Face".

The north face of Mount Everest, known for its extreme snow, is considered one of the most challenging adventure routes. "Face the North Face" symbolizes the courage and strength to conquer extreme landscapes, and overcome inner fears. In this spirit, The North Face empowers outdoor enthusiasts to fearlessly explore their own actual and virtual mountains and shape a new identity.

Echoing the brand's motto of "Never Stop Exploring", the newest 2023 SUMMIT Series is testament to the advancement and functionality of The North Face's professional outdoor gear. Tested by professional athletes, it encompasses three seasonal outdoor sports, namely trail running, alpine climbing and skiing.



Master the Snow; Conquer the Mountains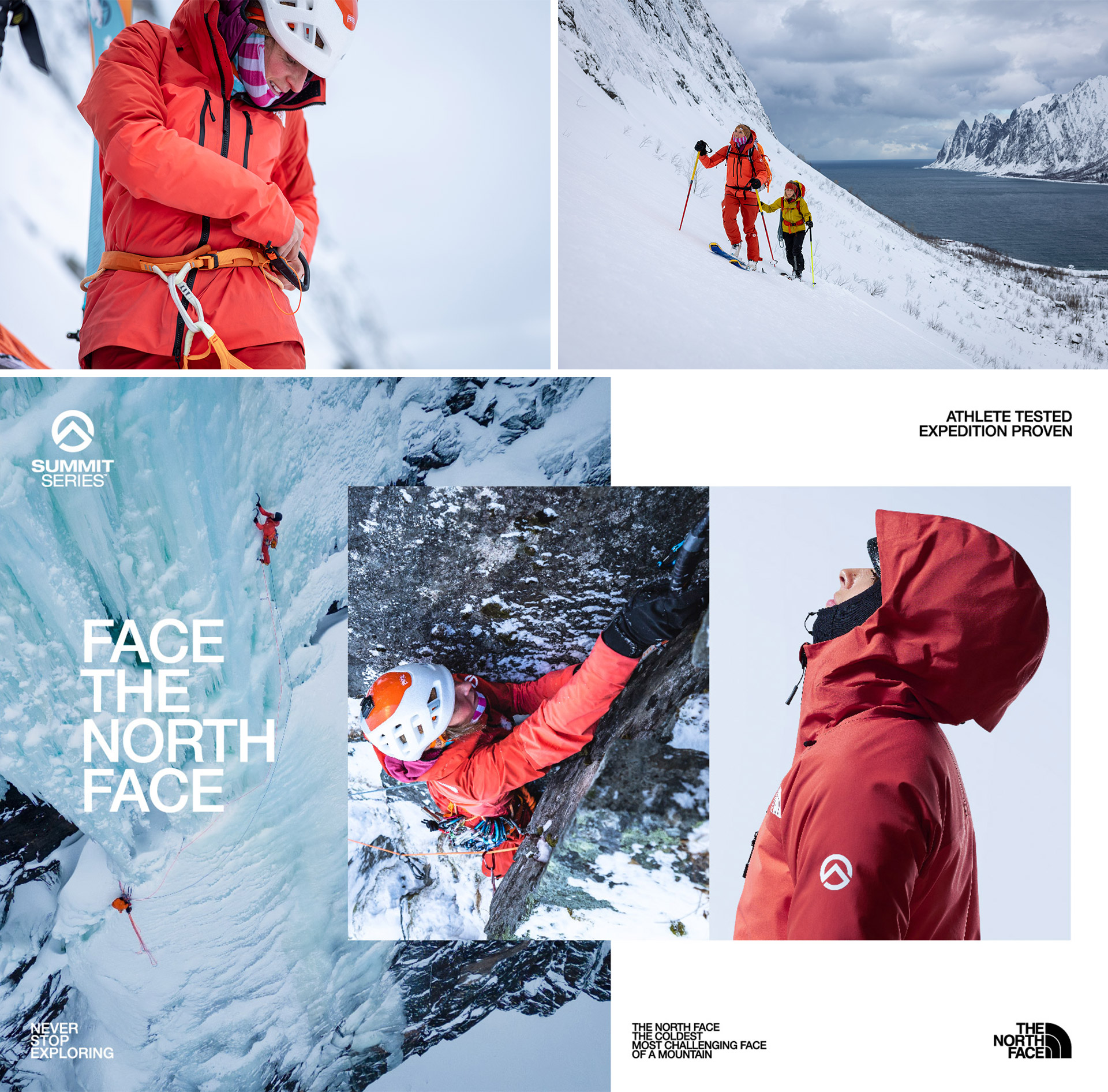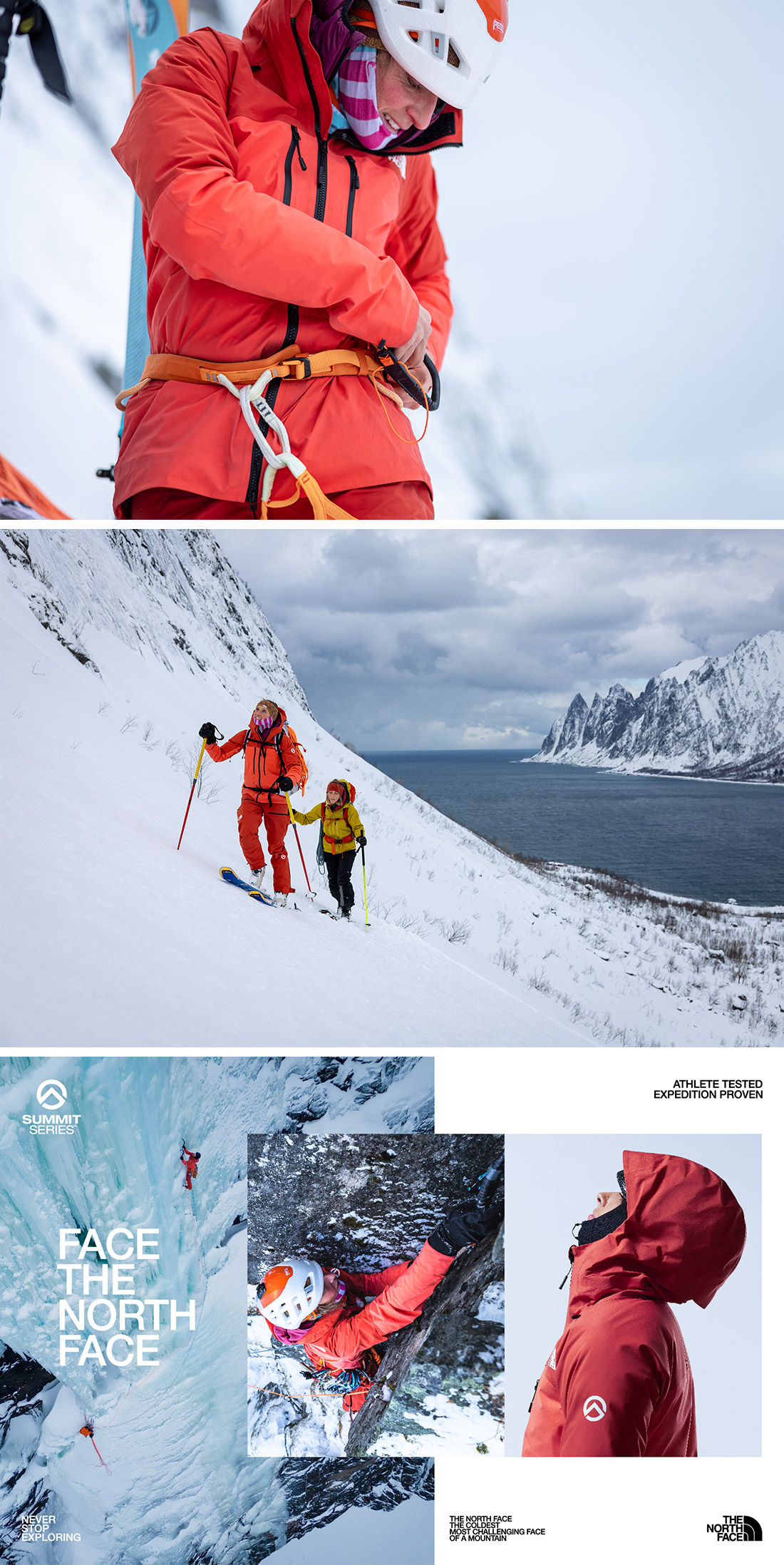 The new SUMMIT Series backs fearless adventurers as they explore the possibilities of high-altitude climbing, delving deep in the woods and facing extreme climate conditions. The Pumori GTX Pro from the series is crafted with GORE-TEX fabric that provides outstanding waterproofness. Equipped with multiple pockets for handy storage, the versatile jacket allows explorers to overcome extremes with ease. The FUTUREFLEECE™ Jacket offers both high breathability and effective heat retention, providing all-around support and protection for explorers to venture freely between different environments.



Prevail Against the Blizzard; Push Through the Fear
Just in time for winter, The North Face SUMMIT Series Verbier GTX is specially designed to cater to professional skiers' needs thanks to the extreme durability and waterproofness of GORE-TEX 3L. The high-performance jacket allows explorers to fully immerse themselves in the bliss of skiing.
The Stimson FUTURELIGHT™ Jacket , crafted with the most advanced breathable-waterproof technology. Lightweight materials minimize the burden and gear-load on explorers without compromising on durability and flexibility, making every exploration challenge easier to conquer.

The North Face's new 2023 SUMMIT Series is available in stores now. Join us and get equipped to conquer the unknown, embark on limitless adventures and "Face the North Face" together.


M SUMMIT BREITHORN HOODIE
W SUMMIT BREITHORN HOODIE
SUMMIT FUTUREFLEECE FZ HOODIE
SUMMIT PUMORI GTX PRO BIB
M SUMMIT BREITHORN HOODIE
W SUMMIT BREITHORN HOODIE
SUMMIT FUTUREFLEECE FZ HOODIE
SUMMIT PUMORI GTX PRO BIB


About The North Face® 

Founded in 1966, The North Face is a major company of VF Corporation headquartered in Denver, Colorado, USA. It commits to serving outdoor athletes with professional equipment needed for every hard exploration. The North Face is named for the coldest, most unforgiving side of a mountain. Its logo draws inspiration from Half Dome, in Yosemite National Park, California. The North Face is its Chinese name, which means the utmost courage to challenge and explore. In 1997, The North Face applied a brand new mantra—Never Stop Exploring. It's deeply rooted in the brand's DNA as the most important motto. As a globally leading outdoor company, The North Face provides products tested by professional athletes and meeting needs of the outdoors, dedicated to exploring and challenging the limitation of human potentiality. Meanwhile, The North Face has always striven for the preservation of the environment. Through sustainable development programs, it works hard to reduce the negative impact of human activities on the environment. Its product offerings are available in retailers of professional sports brands across the globe. For more details, please visit https://www.thenorthface.com.hk or contact us for more brand news.



Facebook: https://www.facebook.com/TheNorthFaceHK
Instagram: @thenorthfacehk


Store Listing

The North Face Exploration Concept Store
Shop 402-406, 4/F, Hysan Place, 500 Hennessy Road, Causeway Bay
Phone: 2892 1113


The North Face Concept Stores
Shop G07-10 & G25, G/F, K11 Art Mall, Tsim Sha Tsui, Kowloon
Tel: 3188 5206

Shop 505-505A, 5/F, New Town Plaza, Sha Tin
Tel: 2609 1110


Remarks:

1. GORE TEX: Exclusively invented and produced by American Company W. L. Gore & Associates, it is a professional functional fabric that is light, thin, strong and durable.
2. FUTUREFLEECE™: FUTUREFLEECE™ technology uses innovative octagonal yarn, which can greatly reduce the burden of exercise, help maintain the body's microcirculation, and maintain physical comfort.
3. The Summit Verbier GTX Jacket is designed for snowsports and made with GORE-TEX 3L for exceptional waterproof protection.
4. FUTURELIGHT: The North Face's best in class standard in breathable-waterproof technology. Using nanospun polyurethane fibre structure with a lightweight, comfortable and breathable membrane.